Carbohydrates and sugar have a bad rep and something which people believe they should avoid. Or it is the other way and people believe that carbs and glucose is ok but fat is the one to fear. But in this post i am just talking about carbohydrates and sugar.
What i write is directed mostly to those maintaining weight and trying to balance food. For those of you trying to gain weight and also struggling with fear foods, the recommendations are different. I.e you can eat more sugar and more carbs, but it might still be helpful to read what i have to write. But just know that the recommendations for maintaining/normal people isnt the same for those in recovery/needing to gain weight.
Carbs are important however the truth is that you can survive without them... out of the macronutrients, carbohydrates are the ones that your body can survive without because the body can break down aminoacids and muscle to create glucose for the brain and cell and even ketones from lipids (fat) can be used for energy, of course that doesnt come without consequences. Because if the body starts breaking down muscle for glucose then you wont be feeling so strong and it can go so far that the body starts breaking down the heart muscle for glucose. The brain needs about 100-140g glucose each day just to function, and then the cells need glucose as well, so if they dont get the glucose from food they will find the glucose in otherways.
Carbohydrates are the easiest source of energy for the body, so if you want quick energy carbohydrates are the way to go!
And the fear that carbohydrates will make you fat, that is not true. What makes a person go up in weight is eating more than their body needs each day. And how much energy a person needs each day is based on many different things such as lifestyle, genetics, hormones, weight, body proportions etc
So thinking that carbohydrates will make you fat is not the case. I mean if you just eat rice or just eat bananas but eat less than your body needs each day then you will lose weight even if you just eat rice or bananas. Or for example if your only intake was 1200kcal worth of cola, then you could lose weight. But eating isnt just about calories, infact eating is more about getting the right nutrients into us, so just eating one type of food or eating a huge amount of one macronutrient isnt going to be so beneficial. What is most beneficial is to eat a balance of the macronutrients and get the right mirconutrients as well i.e all your vitamins and minerals.
Eating carbohydrates will give you energy but also your body gets glucose for your brain and cells as well as getting minerals and vitamins. The recommendation for carbs is usually between 40-60% of your daily intake. Though of course that can still vary for the individual but eating that amount is usually the best. So dont be scared of eating carbohydrates because your body needs it!! And think, when you exercise your body needs glucose so that you have energy but also when you study... you might have noticed that when you eat a low carb meal you arent as focused... that is because your brain needs enough glucose for all that studying!! I often find that if i have lots of studying to do ill eat some chocolate and that is a great source of energy and helps me to focus.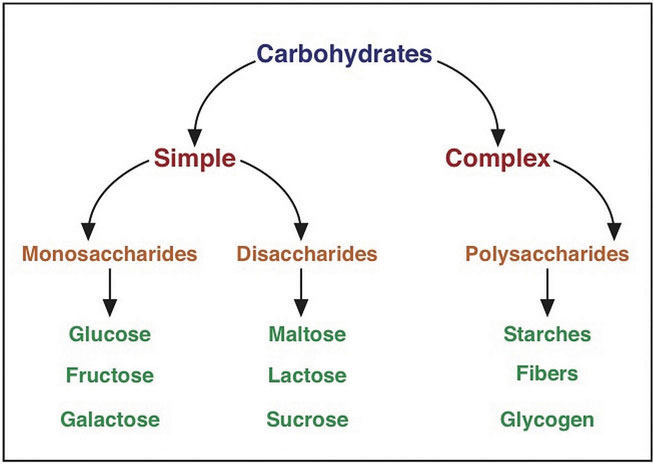 Which brings me to sugar.... the dreaded white stuff which everyone seems to fear. But sugar isnt necessarily bad, in the right amount. The problem with sugar now a days is that people get too much, as they arent aware that sugar is added to so many products. So without actually eating something we know contains alot of sugar, most people have already consumed the recommended amount of sugar. But you know what... if you eat a balanced intake and eat nourishing foods with complex carbs and lean protein and healthy fats, then you can eat some chocolate, cake, ice cream etc now and again. Either you can do a "little everyday" (thats how i do it usually, a little chocolate 5 days a week XD) or do a whole lot like a pint of ben and jerrys during the weekend.
The thing about sugar is that it turns to energy quite quickly in the body and is broken down to fructose or glucose in the liver and then used as energy, and that at times can be very useful. Such as when exercising, but also eating foods with a high sugar content/energy content can be good for those who struggle to get enough energy. Such as when i was younger my snacks consisted of digestive biscuits, nutella and cream as well as drinking full fat milk mixed with a 600kcal milkshake powder thing. And this was because i had such a high energy need and i couldnt get it by eating nuts or bread or other food. I needed high calorie and high sugary food. And that was what was recommended to me by my dietician in the CF clinic, so even if it wasnt so nutriously dence i needed that type of food so that i wouldnt be very underweight. But even eating those types of food i was still underweight.
So sugar isnt necessarily bad, its how much of it you consume. If someone has a sugar intake of 40-50% of their daily intake, then it can of course cause problems because the body wont be getting any nutrients or vitamins. I think we can all agree on that protein, fat and carbohydrates will give the body nutrients and vitamins which are essential each day, while sugar doesnt contribute to much apart from the energy factor. But like mentioned, sugary foods in the right amount can still be part of a healthy diet. Its also important that for a healthy lifestyle, a healthy mind set is important as well. So if you fear sugar like the devil, then you might not have such a healthy mindset.... because it is one thing to be aware of the amount of sugar you consume on a daily/weekly basis, but to feel absaloutly awful and feel like everything is ruined because you ate something with sugar... those are two complete different things.
I mean i am roughly aware of the amount of sugar i consume, but i know i dont consume too much... i consume what is healthy for my body and mind. I dont cry just because i might eat more sugar rich foods one week, instead i move on and will be aware that i ate "more" than necessary or usual, but that it doesnt mean so much as it is not an everyday or weekly thing.
So to summarize, you can still eat sugary foods as a part of a healthy diet and even if you want to maintain. Its about the total calorie intake that affects weight gain, but also about the distribution of the macronutrients. If you are eating too much sugary foods that means that less vitamins and minerals and less of the other macronutrients will be eaten and that can cause problems!!
And last but not least, dont forget your fiber each day!!! Important for a healthy stomach and healthy gut bacteria :) And also can recommend taking probiotic tablets to help the bacteria in your large intestine :)
Anyway, i know this was a long post but i just wanted to share some facts. Remind you that carbs arent the enemy and sugar isnt the devil. Everything in moderation and what YOUR body feels best from. I cant sit here and tell you all that you have to eat 50% carbs because that is not the case, some people feel best eating 30% carbs, others eating 60% carbs. Some feel best eating a little dessert everyday, others prefer to just eat sweet things during the weekend or every second week or so, and it is about finding what works best for you!!!
I hope this helps and if you have any questions feel free to ask :)