Yesterday after my day of studying and a little nap i decided to do some baking. My step dad talked about raw food cakes the previous day and asked me if i could make one sometime soon, and i thought yesterday was as good a day as ever. I mean i wont have much time to bake or cook when i am studying and when i move i wont have enough money to buy ingredients for baking and such, so i thought why not make one now.... and then make some oreo cookies and oreo chocolate muffins to bring to school on Monday (try make friends XD) and also to bring to my boyfriend.
I was then asked if i could post the recipe, but as i improvised i will post roughly how i made the cake as it turned into a sort of chocolate snickers cake and tastes delicious according to me. Lots of good energy and perfect as dessert or a snack :)
The original recipe can be found
HERE
(and it is in swedish so use google translate )
Base:
2dl cashewnuts
3dl peanuts
500g dates
100% cacao
roughly 0,5dl (50ml) coconut oil (in rooms temperature)
2 tbs honey (can use other liquid sweetner, or use stevia and more coconut oil)
100% vanilla powder
Filling:
4dl cashewnuts
1dl peanuts (best to use just cashews or pecans or something)
100% cacao (no measurements, but i used more in the base and less in the filling)
roughly 0,75dl coconut oil
1tbs honey
roughly 1-2 tsp 100%vanilla powder
Base:
Add all ingredients to a bowl in a blender (or use a handmixer) and mix until the mixture is almost smooth and holds together. (can be a little cruncy still. If the mix keeps falling apart add more coconut oil or honey)
Pour the batter in a mold with removable edges. Place into fridge while you make filling.
Filling…
Add all the ingredients in a blender and blend until you have a soft, creamy nut butters . Keep mixing until it is all smooth and not crunchy as the base. Add more "liquid" if it doesnt become smooth.
Pour the filling on the bottom and place in the fridge overnight or for a few hours.
Top with coconut, nuts, melted chocolate or anything else!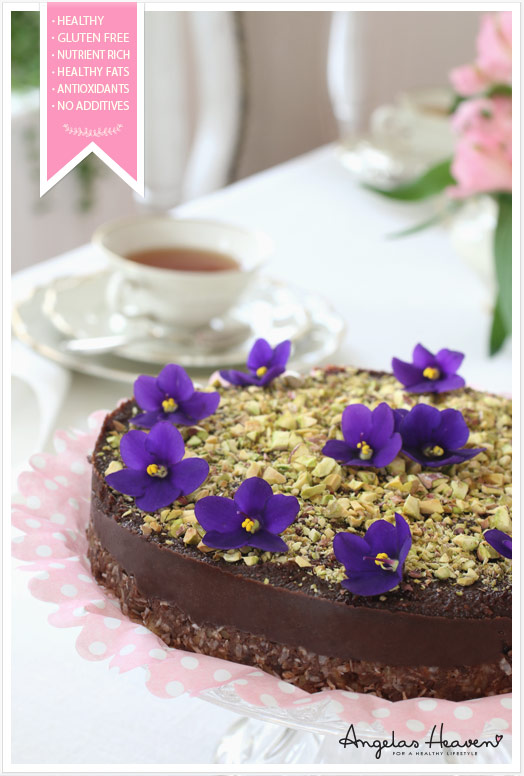 It was too dark to take photos of my own cake, so here is how the cake looked from the original recipe!