I got this blog quiz from
Kendel
and thought it would be fun to join in :)
1. SOMETHING YOU WILL…
Refuse to do for the rest of your life: Have people control me.... Not sure if this makes sense, but basically. Im never going to let people control me... i will make decisions for myself.
Always do forever: Take selfies and pictures of everything.... seriously, the moment i stop doing this, that is when life will be tragic and grey forever!!! Take pictures, make memories, take those selfies if you feel awesome
2. SOMETHING YOU THINK IS…
Certifiably disgusting: Bad body odour. I mean, im not always smelling like roses and perfume, especially not when im working out and sweating like crazy. I dont want to judge people, i mean its happened where i havent had water at home or i didnt have time to wash after a workout, so sure... i havent always smelled great, so i prefer to not judge people and their body odour... but when its a regular thing, then it makes me begin to question their body hygiene.
Absolutely amazing: How exercise can make me feel so amazing and great? Like seriously, taking a 20 minute walk and suddenly i have 5 post ideas and can finish writing my essay as well as feeling super happy, energetic and focused!!! I mean its all science and stuff, but still... its amazing, right?
3. A COMPLIMENT YOU'VE GOTTEN THAT'S MADE YOU…
Feel on top of the world: When i got told at the gym that i was amazing to watch because i looked so strong, focused and powerful. But i also once got a comment at the gym from a person who had seen me when i first began working out in 2012 and they told me that i had made so much progress and looked great and strong now!!! That put a huge smile on my face!!
Pretty upset: When i was recovering and i was told that i had gotten alot bigger and was eating too much food!!! XD Now i laugh... though i must admit, i still despise that person who told me that... and i find it quite difficult to be around that person, but luckily that person i only meet once a year or so!!
4. A NAME YOU…
Hate: I dont really hate any names.... or there is one guy name which i dislike, but i am not going to post it online ;)
Love: I have always loved the name Chelsea for some reason!
5. SOMETHING PEOPLE SAY ABOUT YOU THAT YOU…
Know is entirely false: I dont really know what people say about me.... XD Hopefully they dont say mean things... i guess people might say im shy... which i am to some extent, but its more that i analyze and until you get to know me then i can seem silent and a bit heldback.
Think is on point: Im positive and always happy... this is on point and i love when people tell me this :)
6. A TASTE YOU…
Can't stand: Melted cheese.... Nope... dont like it. and hard bread.... BLahhhh.
Can't get enough of: Salted nuts or chocolate covered nuts. Or freshly baked bread.... can eat all of this all the time!
7. A SONG YOU ALWAYS…
Turn off immediately: "Shut Up and Let Me Go" by The Ting Tings. HATE IT! (Same answer as Kendel, but its the worst song.)
Belt out the lyrics to: I cant really think of any song now... but if i know a song i am likely to have whisper the lyrics, haha. Though i dont sing, unless im at the club then i might :)
8. ANIMAL YOU…
Fear: Cows!!! Super freaky, hate them!
Need in your life right this instant: A puppy!! A new little beagle puppy... or a mini hedgehog!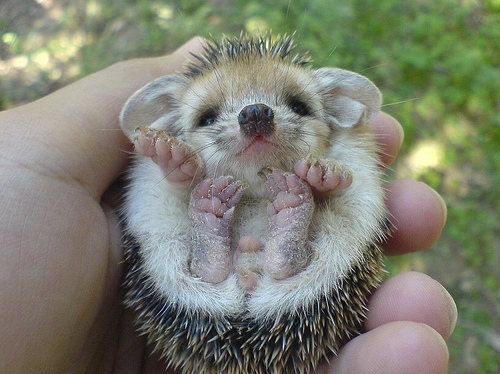 (I want one for a Valentines present!!! #JOKE )
9. SOMETHING YOU…
Will never ever eat: Red meat.... frog..... insects
Would eat for every meal if you were given the chance: Salted nuts. Chicken. Fruit. Brocolli. Salmon. Granola with milk. Questbars.
10. TO ENHANCE YOUR LOOKS YOU…
Would love to, but would probably never resort to: Laser surgery for my hands and arms... as i have self harm scars, but i also have scars on my hands from scars that never healed... and i have a serious hate for my hands because of it. It looks like those caluses you get from purging, when its just scars that healed weird and then i bite on them when im stressed :(
Just stick to: Concealer... always!!! And of course enough food combined with exercise = Energy and a healthy glow and happiness!