Dealing with strong, painful emotions can be overwhelming and even lead to thoughts that your situation is so unfixable that the only way out is suicide. That is NOT true nor the case and every situation is either fixable or something you CAN get through. But when you're in a high-stress emotional state, we can no longer think logically and do what we can to help ourselves. So the first thing we must do is get ourselves calm down enough to be able to use a coping skill.
* Breathing out longer than you breathe in actually activates your parasympathetic nervous system!

Anxiety is your sympathetic nervous system ("fight or flight") setting off all the alarms, while breathing like this will set the parasympathetic system ("rest and digest") into action shutting off the alarms and settling your nerves.

Other things that help: laughing, checking out what's going on around you (moving head and eyes to orient to your surroundings), getting curious about something.
Note: if you have any medication for anxiety that you are prescribed to take in high stress situations (as opposed to a set time and dosage you do every day on a routine) and you have not reached your maximum prescribed dosage, this might be a good time to take it. But only if you need it.
—-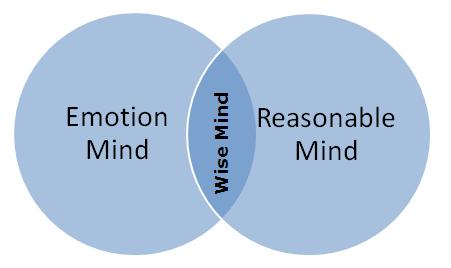 Once you've gotten yourself into a calmer state, we can start to use what's called our wise mind. Basically we have our emotional mind (which I'm sure we're all quite familiar with) and our logical or rational mind. Wise mindis the idea that neither one nor the other, but both of these combined is the best way to think about what to do and how to react. If we just used our emotional mind, we'll get lost in our pain. If we only use our logical mind, we'll be invalidating our emotions and ignoring that those are important and valid and must be included in how you choose to respond or see a situation. So when you use your wise mind, you can make a more balanced decision.
—
** Once you are able to be a bit more calm and use your wise mind, you should do what you can to ease whatever it is that is upsetting you. First ask yourself, "Is this the right time to deal with this?" For example, do you need to go to sleep soon so you are fully rested? Would doing so disturb others around you (like doing loud activities while others are sleeping)? Would it negatively affect you to do this right now (the person who is angry is still angry and needs space)? If after consider if it really is the right time to do this right now, and you think it is, then it's time to fix the problem.
Is it homework? Start working on it. Procrastination will only increase the anxiety as it puts more and more pressure on you the less time you have. (Remember to breathe.) Is it chores? Go get them done. Is it a problem with a friend or loved one? If they are open to talking about it at this time, try that. (There could be a whole post on relationship effectiveness but you can find some information
here
and
here
.) Is it making some phone calls? Get them done.
Note: It is entirely okay to ask for help if these things are too overwhelming to do alone. Ask a trusted friend or family member to either sit with you while you make a call, for example, so you can look to them if you need to know what to say or for reassurance that you're doing okay. Maybe have someone sit near you while you do homework so you know you're safe. If you can, have someone work through it with you to lessen the load.
—-
† If the problem can't be fixed right this minute, or it is not the right time to do it, then do what you can to prepare yourself. One way you can do this is through radical acceptance. That means to accept your situation as it is, that you cannot change it right now, and you will have to deal with it. With radical acceptance, you can look at what's in front of you and really give yourself the ability to problem solve. If you focus too much on what life should be like, or what should have happened instead, or what you or someone else should have done, then you are not looking at the problem in front of you. You are trying to change the past so that it's not a problem anymore. But the fact is that it is, and it's upsetting you, so you have to accept that it is happening so that you can do something about it.
—-
‡ If there is nothing you can do right now, then it's time to focus on what we can do, which is to improve the moment and make "right now" better. The way we do this is to use a coping skill. This means choosing to do activities or actions that make you feel better either by soothing yourself through the senses, being kind to yourself, doing something that can affect the mind through the body (like exercise or calming tea), or distracting yourself. There is more to it than that, but for right now, pick through the list below and choose a few that might help you and remember them. (Maybe keep a journal of things that end up helping you so you can refer back to it in a high emotional state.)
Listen to music
Go for a walk
Take a relaxing bath or shower
Drink some tea
Deep breathing (5 counts in, 5 counts out)
Call/text a friend
Meditate
Stretch
Think about something you are grateful for
Make a list of things you are grateful for
Watch a funny video
Eat your favorite snack while savoring the flavors
Take a nap
Journal (write your thoughts/feelings) ….
Click
here
to see the rest of the list.
—-
I know sometimes it can feel like coping skills won't help and that because they're not fixing the event that originally caused the distress, but remember that you can't think about how to deal with a situation properly when you are solely in your emotional mind. It cuts off your ability to reason fully. So if you can find a way to make yourself feel better, not only will it make it easier to handle the situation at hand, but you being happy is important. You are important. You really deserve to be happy and nothing is unfixable. There are steps you can take to feel better. You just have to give it a try.
Note: This post and the information and links provided are not a replacement for real, medical treatment. Please do not stop taking your medication or change your dosage without your doctor's consent or knowledge.